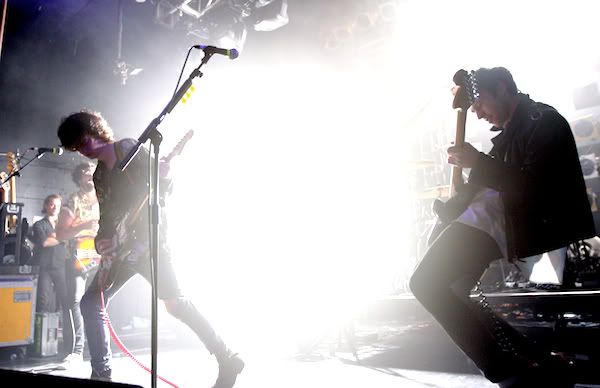 It seems that everywhere they go Tribes attract an expectant crowd humming with the sense that they are on the edge of a moment, about to be part of something special. In the year that promised the guitar band revival, Tribes have come out to show us exactly what this should be all about, creating moments of Camden magic at every opportunity.
They set the scene here back in the spring with their roof top video recording of the anthemic 'We Were Children', and a packed-out gig at Dingwalls. A summer of energetic festival appearances around the country followed, and last week they returned as part of an extensive tour, ready to be crowned the kings of Camden with a headline show at the Electric Ballroom.
The home crowd was treated to much loved ready-made classics such as 'Sappho' and 'Coming of Age', interspersed with lesser known songs such as 'Himalaya', due to be included in their debut album Baby in January. This new material reaffirmed the sense that the band have their sights set on yet bigger and better things – they've put in the hard graft and 2012 will be the year that they should comfortably be able to establish themselves as one of the UK's most refreshing new live acts.
If you haven't seen Tribes do their thing yet then you need to get on it – they always look like they're having a ball and will make a proper effort to make sure you do too. The band are due back next for the Wheelbarrow's shindig on December 31 at the HMV Forum – definitely the best NYE party on offer in Camden so far.
Take a look at more of our pictures from the show here (credits to Dan Aitch).
Tags: camden, electric ballroom, live, Tribes