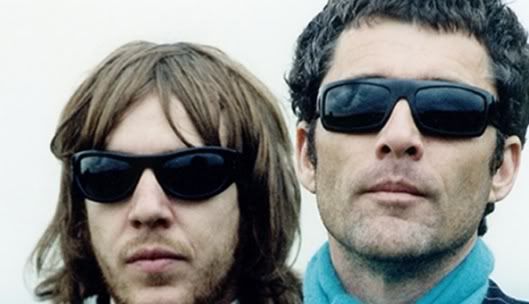 Fusing minimal techno, electronica, psychedelia and noise rock may sound like a recipe for self-consciously cool vacuity, or worse an unlistenable mess. But it's a line that Richard Fearless under his Death In Vegas guise has bestrode with critical success since emerging as a satisfying counterpoint to the big beat and Britpop of the mid nineties. Always operating outside of the mainstream, but with commercial success as a result of 1999's 'Contino Sessions' and 2001's 'Scorpio Rising', this is a man with an impressive CV. On Thursday night the Don of dark disco invited us all into his dungeon – aka the Electric Ballroom.
Having put Death In Vegas on extended hiatus in 2004 until the release of 'Trans-Love Energies' earlier this year, there was a sense of occasion around the return of Fearless and co. A mixed crowd of hipsters and ageing, beery 90s ravers rubbed along happily together in a state of expectation, with the venue absolutely packed.
Fearless did not disappoint. Taking on vocal duties for the first time, he produced a pulsating and hypnotic set. Storming versions of old favourites such as 'Dirge', 'Death Threat' and 'Aisha' sounded re-energised by the full live band on stage, comprising members of his side project Black Acid. Set closer 'Hands Around My Throat', perhaps DIV's biggest anthem, was similarly reinvented and had the obligatory set closing effect of causing the biggest crowd surge of the night.
But it was in many ways the new material which stood out, with the garage rock stomp of 'Black Hole' and 'Moe Tucker' showing a new side of Fearless' song writing. Recent single 'Your Loft, My Acid' was more familiar DIV territory, with killer synths and the looped vocals of Austra's Katie Stelmanis showing that Fearless can still do Berlin style techno bangers with the best of them.
Therein lays the almost unique value of Death in Vegas when measured against their late 90s peers. They have always evolved and always sounded fresh, and even after so long away this has not changed. It may not be the late 90s anymore, even in Camden, but Richard Fearless is still going strong and on Thursday night he proved that he remains a singular and compulsive voice in the UK underground dance scene.