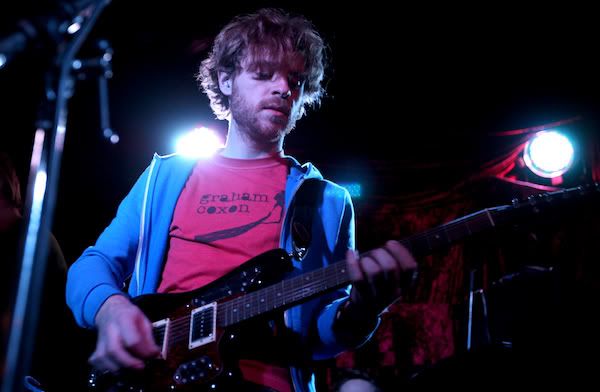 I make no secret and offer no excuses in relation to my absolute adoration of Bear Driver, having first seen them at a Best of Myspace gig at The Bull & Gate about a year ago. Since then they've slimmed down by one member (losing Cassie to her solo work), played to great critical reviews at both SXSW and the Camden Crawl, and supported The Joy Formidable at Koko.
Their back catalogue is still impressive beyond belief, the debut album is imminent and tonight, despite my aching familiarity with this band and its music, I am blown away by their ability to write and perform what I can only describe as inspirationally bloody good songs.
Guitarist and sometime-singer Harry Dean finds more ways to fall off stages, disconnect cables, break guitars and cause ear-shattering feedback than anyone I've seen. Tonight however, he's restrained; he doesn't fall off-stage. Since last summer's back-breaking crash at Dingwalls, Harry has sworn never to repeat this particular trick. Tonight he succeeds, just… but only just. Sharing guitar and vocal duties, Oli Deakin has the sort of voice that both melts concrete and then woos the driver of the concrete mixer into bed. He's the perfect calm to Harry's destructive enthusiasm and it works brilliantly.
While I still think that Enemy was the song of 2011… well, I've nothing left to say about it – it may yet become my song of 2012 too. It's a perfect piece of pop and just the right antidote to ensure that tonight's frozen bones are frozen no more (repeated airtime on BBC 6 Music means you don't just have to take my word for it).
The wonderful attraction and explanation to Bear Driver is that you love them but can't find the words for why. You listen to them but can't explain the reason for it. You smile, but only because laughing seems out of place. They are a mind-filling, brain-freezing, spectacular way to bring in the New Year and now, more than ever, they deserve the critical acclaim that will surely flood their way this year. Prove me right. Their time is now.
Words and pictures: Dan Aitch
Tags: bear driver, camden, live, Music, Wheelbarrow