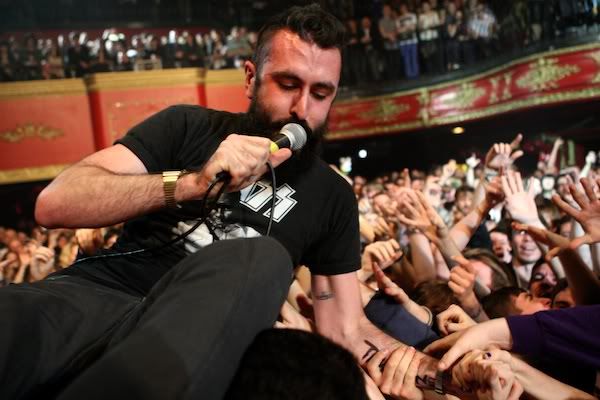 Scroobius Pip hits Camden for the second time in three months, but this time he's determined to make sure we all have the night of our lives. I don't know if it's the fact that he's now mid-way through a European tour, or whether it's because he's happy to be back in England, but tonight we are treated to more than we could ever hope for from one of his sets.
Starting with album opener Interdiction it's clear tonight will be a little different as he takes to his hair with two clippers and proceeds to give himself a mini-mohawk (just like he does in the music video) midway through the song. It's a devastatingly effective way of turning the heat up by a good few degrees, and the place becomes a cauldron of adoration, freneticism and exhilaration.
The set itself is both simple and complex at the same time. With just two other musicians on stage, both of whom are shielded from view by a lot of equipment, it's left to Pip to fill the large space with his presence and it's fortunate that he's up to the job.
He drags cohort B. Dolan on stage for the single Soldier Boy, placing a joke arrow through his new mohawk as they work together to deliver the punchy, damning and sad indictment of the military and their puppet strings. Dolan has a fine set of blonde hair extensions… on his beard. Yes it's strange but who really cares? Perhaps it's the fallout from a recent successful trip to Amsterdam… to buy, er… tulips, probably.
Vocalist Natasha joins the stage for Feel It and we're left with an encore that shows Pip's slightly violent side; coming on stage for The Struggle with his hands drenched in blood. The song is about Johnny Depp, the serial killer and the front few rows are flecked with blood by the time it finishes. Having started in fine form with the clippers, we're now left with a 'London-only' special of Prince's Get Off, complete with all of the nights special guests and support bands on the stage. It's messy, it's tacky, it's bloody good fun and it's not something I'll be able to avoid in the future, should we be graced by his presence again. And there endeth tonight's lesson.
Words and pictures: Dan Aitch